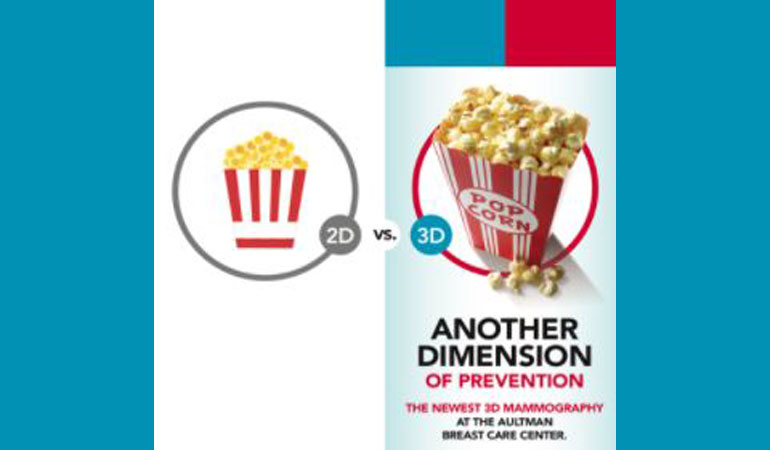 Congrats to Jeff McMahan of Innis Maggiore and Aultman Hospital
NSME Vice President for Public Relations/Marketing and Innis Maggiore Senior Account Supervisor Jeff McMahan helped Aultman win top honors in the national Cancer Awareness Advertising Awards competition. Jeff said the 3D mammography newspaper ad and campaign awards are examples of sound strategy and creative execution based on positioning. Innis Maggiore is the nation's leading positioning ad agency.
"We approached the Aultman Breast Care Center's 3D mammography campaign with the same rock-solid foundation we use for all of our agency's work – sharply focusing on the areas that truly differentiate Aultman Breast Care Center most meaningfully compared to the competition," McMahan said. "The judges recognized what Aultman and Stark County already know – that 3D mammography as used at Aultman Breast Care Center is a life-saver. As the tagline says, 'Seeing is believing'."
Aultman Breast Care Center's newspaper advertisement for its 3D mammography capabilities and the advantages they provide to patients was awarded the highest accolade – the Gold Award – in the category for hospitals with more than 500 beds in the national Cancer Awareness Advertising Awards. It is a competition operated by trade journal Marketing Healthcare Today. In addition, Aultman's overall 3D mammography campaign "Another Dimension of Prevention" was awarded the Silver.
Designed in bright colors and bold graphics, the Aultman 3D mammography newspaper ad promotes the visual clarity and detail the technology provides and the advantages it delivers. "Seeing is preventing" is the tagline that informs readers what they can expect from 3D mammography at the Aultman Breast Care Center.
This is without exception, the single-best networking organization I belong to. They have these amazing educational events where some of the area's leading minds come to share their wisdom. It's awesome!
Why Join NSME?
It's all about you!
Complimentary workshops
Professional member recognition
Educational and networking event discounts
Online networking opportunities
Sign up for meeting updates and other news!