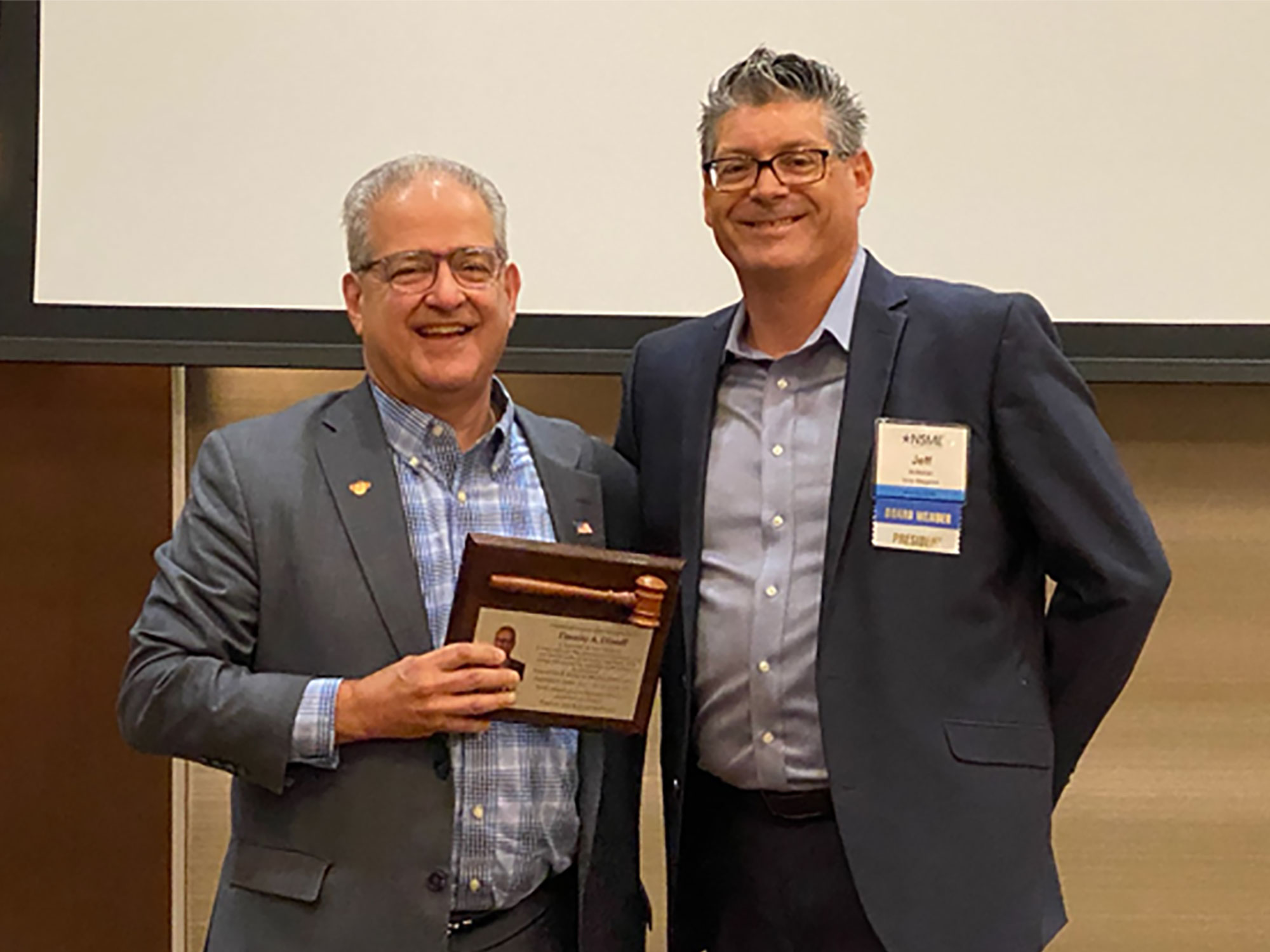 Thank You Tim Dimoff, Welcome Jeff McMahan
July 13th was a day of transition for NSME Akron/Canton. Tim Dimoff, out-going chapter president and long-time NSME supporter, swore-in Jeff McMahan as our new president.
There aren't enough words to express our appreciation to Tim for all that he's done for NSME Akron/Canton. A member for 26 years, Tim has consistently been a champion for the organization and encouraged each of us to excel both professionally and personally. 
Although it wasn't the first time Tim served as our president, it certainly was the most unusual. Leading an organization whose primary focus is developing personal and professional connections while in the midst of a pandemic is a unique challenge — one that Tim managed with his trademark enthusiasm.
In recognition of his contributions, Tim was presented with the Life Member award which gives lifetime membership to NSME — an honor that has only been bestowed once before. Tim, thank you for all that you've done!
Fortunately, NSME remains in good hands with our new president, Jeff McMahan. Jeff has been a member of NSME for eight years and has served on the board of directors for the past six.
Jeff has more than 30 years of experience in advertising and is a winner of the Accent on Excellence award. He is a senior account supervisor at Innis Maggiore, a full-service integrated advertising agency. Jeff also serves on the board of trustees for the Massillon Museum. 
This is without exception, the single-best networking organization I belong to. They have these amazing educational events where some of the area's leading minds come to share their wisdom. It's awesome!
Why Join NSME?
It's all about you!
Complimentary workshops
Professional member recognition
Educational and networking event discounts
Online networking opportunities
Sign up for meeting updates and other news!