2019 Executive of the Year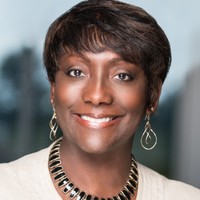 Theresa Carter
Theresa Carter is the President of OMNOVA Solutions Foundation, a $27 million endowment supporting local communities throughout OMNOVA's footprint worldwide. Her passion for bringing communities together and creating tomorrow's leaders is reflected in her role in the Foundation, which in 2017 provided nearly $1.5 million in support to educational initiatives, civic investments, health and human services, and the arts.
Theresa's purpose-driven mission is to inspire volunteerism and empower others to give back to the community. She is active in her church and serves on a number of non-profit community boards, advisory councils, and committees including the Greater Akron Chamber; The NAACP Akron Chapter; the Akron Urban League; and Cleveland Clinic Akron General Medical Center. Her committee involvement includes Summit County Children Services; The Boys and Girls Clubs of the Western Reserve; The United Way of Summit County; Project Grad Akron, and the Warrensville Heights School District task force.
She has been honored with many awards and recognitions, including most recently the OMNOVA Solutions Chairman's Award (the Company's highest honor) and the 2016 Lieberth Community Vision Award through Leadership Akron.
A native of Demopolis, Alabama, Theresa graduated with a Bachelors of Arts in Communications from the University of Alabama. She's the proud mom of two daughters, Erin and Cesily.
This is without exception, the single-best networking organization I belong to. They have these amazing educational events where some of the area's leading minds come to share their wisdom. It's awesome!
Why Join NSME?
It's all about you!
Complimentary workshops
Professional member recognition
Educational and networking event discounts
Online networking opportunities
Sign up for meeting updates and other news!