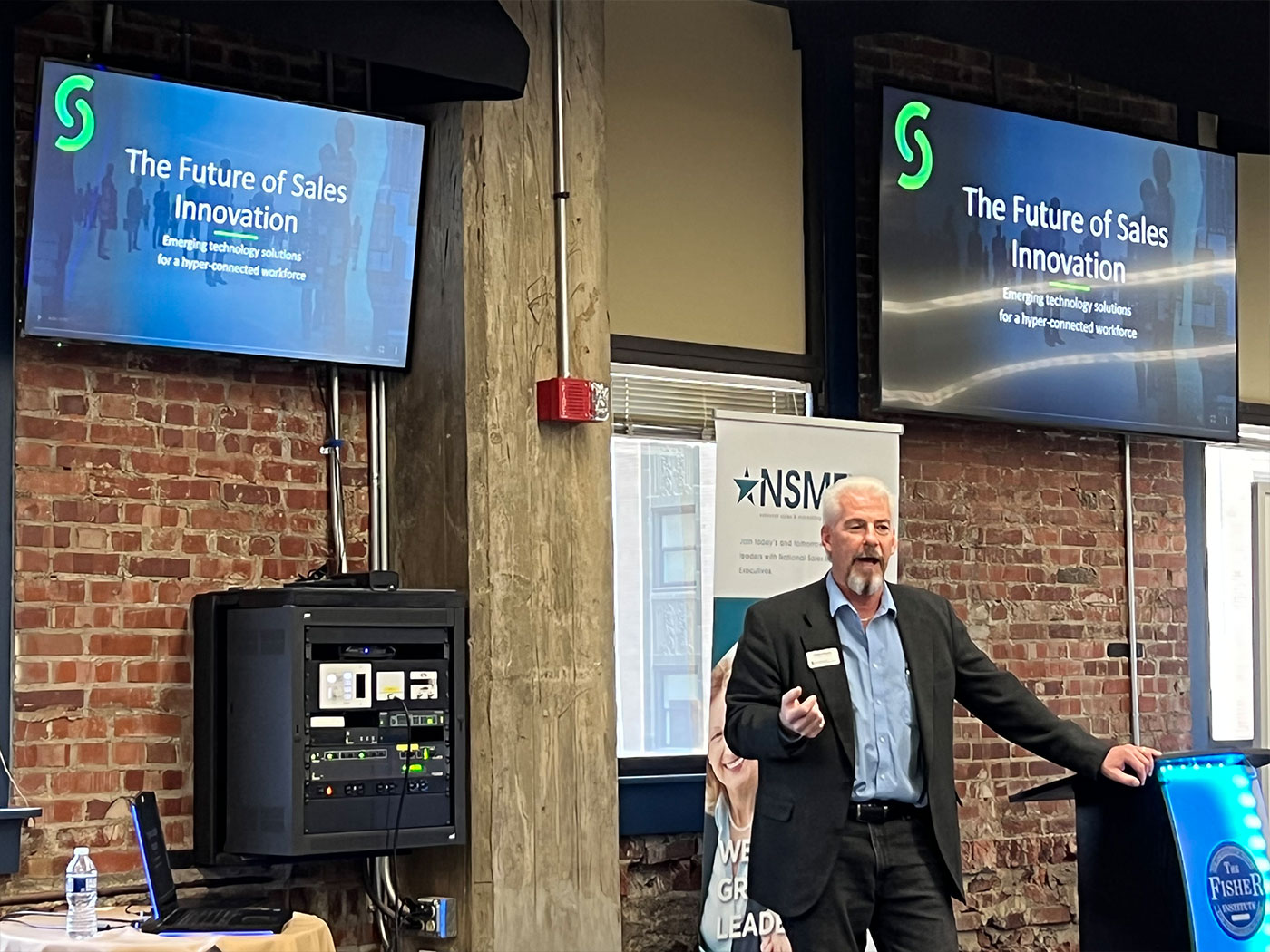 The Future of Innovation
Dave Payne, Director of The Fisher Institute for Professional Selling, kicked off this meeting, stressing the importance of having emerging technology solutions for his University of Akron students in an ultra-connected world.
He has been with U of A since 2016. He and his team cultivated 28 corporate sponsors and many private donations to build the cutting-edge sales lab where we had our meeting.
The University of Akron is one out of only 24 colleges nationwide to offer a Bachelor of Science in Sales Management. This program was launched in 1994.
There are nine sponsored rooms in the lab where students can gain many skills, from use and exposure to new technology to practicing for virtual interviews where they can receive instant feedback on what they say and how they present themselves.
Dave introduced the team from S3 Technologies, who spoke about their technology innovations and gave real-life examples of solutions they rolled out to various organizations.
Augmented Reality
They have found that Augmented Reality (AR) works well when a technical sales rep needs to quickly learn about a company's product or show a different aspect. They gave two client examples.
The Cleveland Cavaliers wanted to sell venue space at Rocket Mortgage Arena. They found that once they sent prospective clients the AR glasses, they could take them virtually through the entire area. It helped them sell more space! They continue to use this solution today.
Moen is using QR codes to launch web-based AR products. Customers can see annotations about new products from their smartphones.
Virtual Reality
An assisted living facility wanted residents to feel comfortable moving outside their usual space. Virtual Reality (VR) was able to work with the Internet of Things (IoT) to show them things outside their world. Each resident would have to wear the glasses for a 6-8 minute experience of doing or seeing something different. In addition, the S3 Technologies client shipped goggles to prospective residents or their family members to experience the facility without having to step foot on the property, which was especially helpful during COVID-19.
VR has been essential in corporate training where employees can experience a whole host of situations (insurance) or where a company's catalog of products is extensive. Again, this made a massive difference during COVID-19, when live training was non-existent.
Conclusion
Dave Payne concluded the program by emphasizing that AR and VR have played a role in the sales lab. In addition, due to its partnership with S3 Technologies, the Fisher Institute has forged new relationships with other universities and companies around the world.
De-de Mulligan with Mulligan Management Group has been an NSME member since 2017 and is a regular blog contributor to our organization.



This is without exception, the single-best networking organization I belong to. They have these amazing educational events where some of the area's leading minds come to share their wisdom. It's awesome!
Why Join NSME?
It's all about you!
Complimentary workshops
Professional member recognition
Educational and networking event discounts
Online networking opportunities
Sign up for meeting updates and other news!