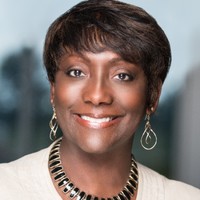 Theresa Carter, NSME Akron/Canton 2019 Executive of the Year
For over thirty-three years, Theresa Carter has made her mark in the world of philanthropy at  OMNOVA Solutions,.   She oversees the work of the foundation, which supports the vital mission of many non-profits in OMNOVA communities worldwide. 
A native of Demopolis, Alabama; Theresa received her Bachelor of Arts degree in broadcast journalism from the University of Alabama.   After graduation in 1983, she moved to Akron where she accepted a temporary job assignment with the General Tire & Rubber Company. She held various positions within the company over the years and became the President of the OMNOVA Solutions Foundation in 2007.
Her purpose-driven mission has been to inspire volunteerism by encouraging others to give back to the community as well. She's active in her church and serves on some nonprofit boards, advisory councils, and committees including the NAACP – Akron Chapter, Akron Urban League, Cleveland Clinic Akron General Medical Center and The Greater Akron Chamber.   Her committee involvement includes Summit County Children Services, The Boys and Girls Clubs of the Western Reserve, The United Way of Summit County, Project Grad Akron, and the Warrensville Heights School District task force.  She also mentors young women and encourages them to focus on personal development and growth. 
Theresa has received many awards for her passion, commitment and servant leadership.  Among those include the Lieberth Community Vision Award through Leadership Akron; and the OMNOVA Solutions Chairman's Award, the Company's highest honor.  She will also receive the Greater Akron Chamber's H. Peter Burg Award, next month.  Theresa's most significant achievement and her pride and joy are her two daughters, Erin and Cecily!
The OMNOVA Solutions Foundation has a long, rich history in the Northeast Ohio community as well.  Starting with its roots as the General Tire and Rubber Company, it took on the name of its parent company GenCorp in the mid-'80s and became OMNOVA Solutions in the late '90s.  Over the years, its Trustees have remained consistent in maintaining education as its highest giving priority by supporting K-12 and college/university level programs that teach and motivate future leaders and workers.
In 2018, the Foundation awarded nearly $1.4 million to eligible nonprofit organizations, with over half of those dollars designated to education initiatives.  The Foundation also supports the arts, civic, and health & human service programs.
NSME Akron/Canton is Proud to Lift This Individual
Every February, at the Accent of Excellence Gala, we recognize two individuals that have made exceptional contributions in the greater NEO area.
Know someone who should be recognized? Please email Executive Director, Sharon Reed at Sharon.reed@nsme.org no later than July 31, 2019, with the name of the person, title, and one-two paragraphs why they should be recognized.
This is without exception, the single-best networking organization I belong to. They have these amazing educational events where some of the area's leading minds come to share their wisdom. It's awesome!
Why Join NSME?
It's all about you!
Complimentary workshops
Professional member recognition
Educational and networking event discounts
Online networking opportunities
Sign up for meeting updates and other news!