"Gratitude Strategies: Finding the Good Through Challenging Times" by Lisa Ryan, Certified Speaking Professional (CSP), and Author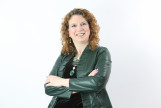 The business disruptions in 2020 gave us many opportunities to find the good - even in the most difficult of circumstances. Although it sometimes doesn't feel like it, there were many "gifts" that resulted from the pandemic. The challenge is to find them...
In this fun and engaging session, you'll see the differences that having a gratitude strategy - or Grategy - can make using research, anecdotes, personal stories, and experiences, Lisa gives you simple tools for business and for life.
You'll discover how gratitude changes your SELF - your perspective, the way you look at what happens to you, and your mental programming.
You'll recognize the HEALTH benefits of gratitude and learn what you can do to activate them for a stronger heart, a more robust immune system, and sounder sleep.
You'll understand how gratitude improves relationships with OTHERS - at home and in the workplace. You'll also receive strategies you can use immediately.
Finally, we'll explore how to apply these benefits in the WORKPLACE and help you develop the leadership skills needed to connect with and engage your team.
By attending this program, you will:
Experience a daily practice that positively influences your life
Explore the health benefits of gratitude
Learn gratitude strategies (Grategies) for relationships
Understand strategies to create a workplace that ROCKS!
You will leave this program with specific ideas that produce dramatic and positive results in your health, wealth, and happiness.
Lisa Ryan Bio:
As a Certified Speaking Professional (CSP), an award-winning speaker, and author of ten books, Lisa Ryan works with her clients to develop employee and client engagement initiatives and strategies that keep their top talent and best clients from becoming someone else's.
Lisa's expertise includes strengthening workplace culture, improving employee engagement, increasing customer retention, and initiating gratitude strategies ("Grategies") for personal and professional benefit. Lisa's participants enjoy her high energy, enthusiastic delivery and quick wit and they leave the session with ideas they are committed to acting on immediately to make positive workplace culture changes.
Lisa costars in two films with other experts including Jack Canfield of "Chicken Soup for the Soul." She is the Past-President of the National Speakers Association, Ohio Chapter, and holds an MBA from Cleveland State University. She has served on a number of trade association boards including The American Welding Society, Cleveland Chapter, the Association of Equipment Management Professionals (AEMP), and Toastmasters International.
Relevant Experience
Keynote, breakout, or workshop speaker at more than 500 national and international conferences and events
Thirteen years of industrial marketing and sales experience, including seven years in the welding industry – and yes, she does weld
Host of "Elevate Your Engagement Levels: What You Need to Know" on the Elite Expert Network
Creator of "The Seven Mistakes Managers Make to Crush Company Culture" video series
Best-selling author of ten books, including "Manufacturing Engagement: 98 Proven Strategies to Attract and Retain Your Industry's Top Talent"
Award-winning speaker
Registration is now closed for this event.
100% Secure SSL Encryption by Stripe

This is without exception, the single-best networking organization I belong to. They have these amazing educational events where some of the area's leading minds come to share their wisdom. It's awesome!
Why Join NSME?
It's all about you!
Complimentary workshops
Professional member recognition
Educational and networking event discounts
Online networking opportunities
Sign up for meeting updates and other news!