"Updates in AI and How to Use it in Your Business" by Dr. Joseph Fox, Assistant Professor of Entrepreneurship in the Department of Management at The University of Akron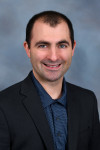 Updates in AI and How to use it in your Business
Current landscape of AI / What might be next
Separating fact from fiction on capabilities
Key use cases
Dr. Joseph Fox Bio
Dr. Joseph Fox is an Assistant Professor of Entrepreneurship in the Department of Management at The University of Akron. His area of expertise is at the intersection of technology and entrepreneurial thinking and how to harness innovation to operate in complex environments. His work has been featured in publications such as the Journal of Business Research and Small Business Economics.
100% Secure SSL Encryption by Stripe

This is without exception, the single-best networking organization I belong to. They have these amazing educational events where some of the area's leading minds come to share their wisdom. It's awesome!
Why Join NSME?
It's all about you!
Complimentary workshops
Professional member recognition
Educational and networking event discounts
Online networking opportunities
Sign up for meeting updates and other news!