Selling Is Easy (if You Know The Rules), Victor Ing - Author / Director of Staffing, Innovative Driven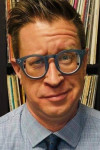 Selling Is Easy (if You Know the Rules). Vic will share the story of how he landed the largest sale of his career ($50 million) and how following the basic concepts in his book made this happen. By attending this session, you will learn why you should:
Know when to say "no."
Always sell at the top.
Schedule "pricing discussions."
Never chase "ghosts."
and more!
Link to the book:
https://www.amazon.com/Selling-Easy-Rules-Business-Business/dp/B0955HDTMZ
Bio: Vic Ing | Director of Staffing & Specialized Business Development
Vic Ing is a lifelong resident of Cuyahoga Falls, where he lives with his wife, Wendy, and their three children. At age 16 he scored a minor hit song on radio and worked for many years in local record stores. After graduating from the University of Akron with a degree in Psychology, he began working in the staffing industry, where he has had continued success for almost 25 years. In 2019, he founded Viking Sales Consultants to share his training and coaching programs with small business owners and entrepreneurs ready to take their businesses to the next level. Although it was an immediate success, inspiring the release of his book, Selling Is Easy (If You Know the Rules), he found the entrepreneurial life to be too lonely. He is now the Director of Staffing at Innovative Driven where he helps law firms, government, and corporate clients connect with top legal talent, as well as manage their information and data. In addition, he owns and operates Viking Records, with two locations in the Akron area, driven by the mission to "save the music." You can find Vic on various social media platforms, sharing his sales tips but often talking about music and his collection of nearly 100,000 vinyl records.
Registration is now closed for this event.
100% Secure SSL Encryption by Stripe

This is without exception, the single-best networking organization I belong to. They have these amazing educational events where some of the area's leading minds come to share their wisdom. It's awesome!
Why Join NSME?
It's all about you!
Complimentary workshops
Professional member recognition
Educational and networking event discounts
Online networking opportunities
Sign up for meeting updates and other news!