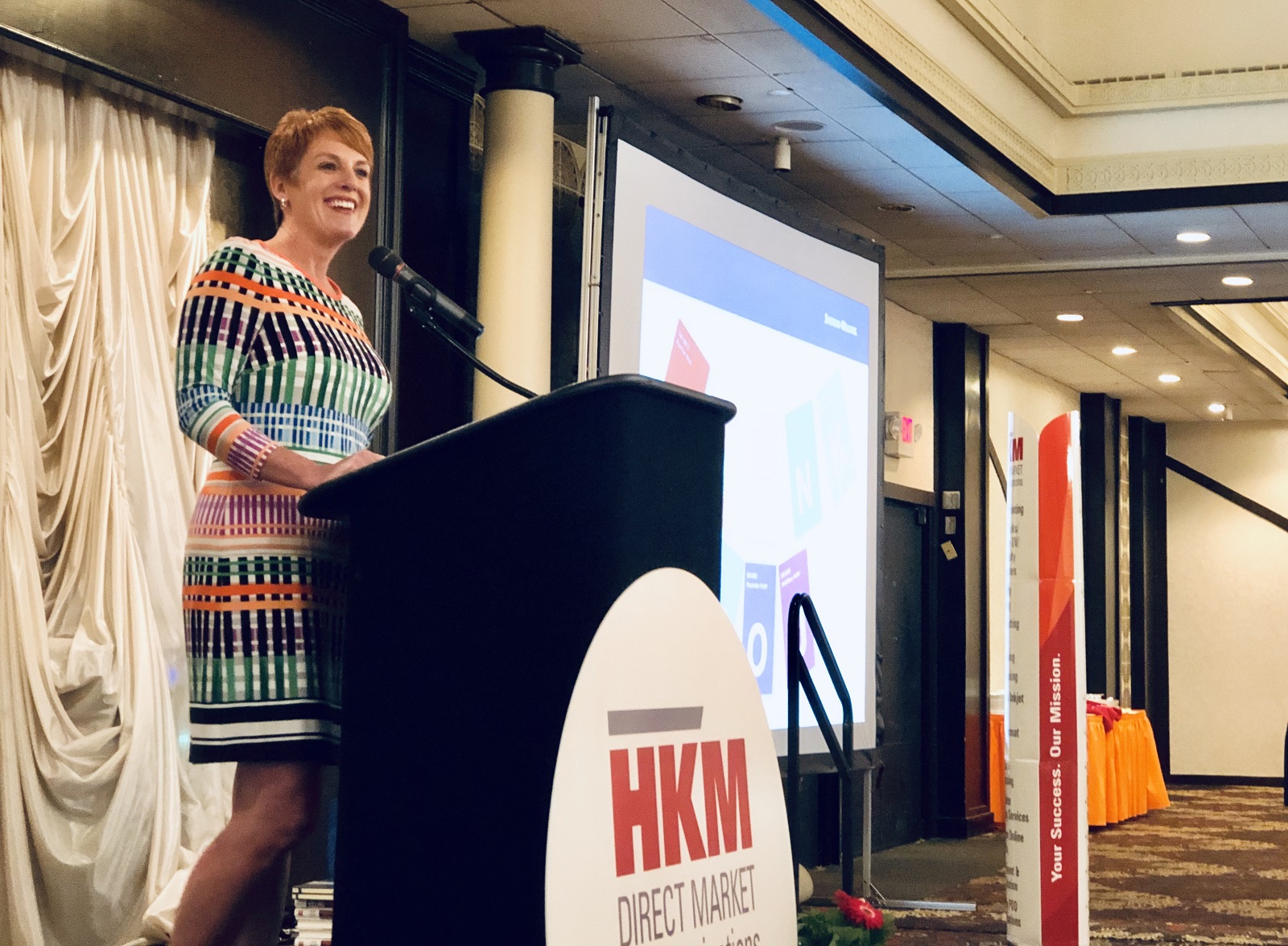 153 Years of Success at Sherwin-Williams [NSME May Speaker, Ellen Moreau]
By Kristin Shawd
Marketing is all about "success by design," noted Ellen Moreau (Senior Vice President of Marketing Communications at The Sherwin-Williams Company) as she wrapped up her presentation titled, "Old but not Old School." The 200 in attendance at the May 21st  Collaborative Summit Group Event had a century+ of strategic decisions to consider in their own marketing efforts.
3 Keys to Surviving Today's Marketplace
What are the keys to lasting success? This is a particularly poignant question considering Sherwin-Williams is 153+ years old.
Ellen began her discussion by highlighting familiar brand names that, despite name recognition, have not survived – think BlockBuster and Sports Authority. So why do some companies and brands have staying power while others fizzle out?
The keys to Sherwin-Williams' century and a half of success and Ellen's advice to others:
1)      Know your customer
2)      Innovate
3)      Be True to Your Brand
Focus on these three elements.
Know Your Customer
Research to know your customer well – not just their current needs but also their future needs. Your customers' needs will include things that they aren't even aware of yet. It is the successful company that will help identify, shape and solve these future needs.
Examples in Sherwin-Williams history include their creation of the Home Decorator magazine (1950s), the HGTV show Room by Room (1990s) and the ColorSnap app in 2008 – all to help their customers visualize how they could use Sherwin-Williams products.
Commit to Innovate
Nothing stands still, so innovation is key. Ellen pointed out many ways Sherwin-Williams has been a leader in innovation, from creating ready-mix paints in 1880 to creating the paint roller in the 1940s, to (again) the ColorSnap in 2008, which makes picking colors a snap for consumers from their mobile device.
Be True to Your Brand
The balancing feature should always be a commitment to your brand. You've developed a brand, stick to it and be consistent. Don't add things that don't meet customer needs. Don't add things that confuse your customers. Sherwin-Williams is a wall coatings company, everything they do centers around that identity.
Sherwin-Williams Marketing Fly Over
Along the way, Ellen provided a quick tour through the company's history, highlighting stops on the timeline.
1910: Home Decorator debuts to help customers design/decorate using Sherwin-Williams products (first use of content marketing).
1950s: Home Decorator magazine now delivered to homes (direct marketing effort putting decorating ideas and tips in the hands of consumers at home).
1980s: "Ask Sherwin Williams" tagline, reinforcing their leadership in the wall coatings space.
1990s: "America's Paint Store" tagline, furthered their brand identity (80 Years of MBA sponsorships solidified this – America's Paint Store sponsored America's past-time).
2005: ColorSnap website color visualizer, which goes mobile in 2008 (a top 10 app).
2010: Color Chips Ad Campaign – updated their marketing strategy to include an emotional component, campaign still ongoing.
2010: Facebook page launched, additional audience-specific Facebook pages added later, as well as other social media platforms.
The overall takeaway was this, "marketing is all about success by exclusion." Have a strategy and do your research. Exclude everything that doesn't meet your strategic goals.
NSME Akron/Canton June Field Trip 
Join us for our next event on June 11th – a field trip to MGM Northfield Park where Jamie Brown (VP Marketing) will give a presentation titled, "Las Vegas is Here."
Event Schedule:
5-5:30 registration (bar available)
5:30 – 5:45 open remarks
5:45- 6:15 Dinner
6:15 – 6:50 Speaker
6:50 – 7:00 Q & A
7:00 - 7:30 Explore the Property 
Registration for the June 11th field trip to MGM Northfield is now available online.
About the Contributor
Kristin Shawd is a Digital Marketing Strategist at MulliganManagementGroup.com. For more information, contact us at info@MulliganManagementGroup.com
This is without exception, the single-best networking organization I belong to. They have these amazing educational events where some of the area's leading minds come to share their wisdom. It's awesome!
Why Join NSME?
It's all about you!
Complimentary workshops
Professional member recognition
Educational and networking event discounts
Online networking opportunities
Sign up for meeting updates and other news!