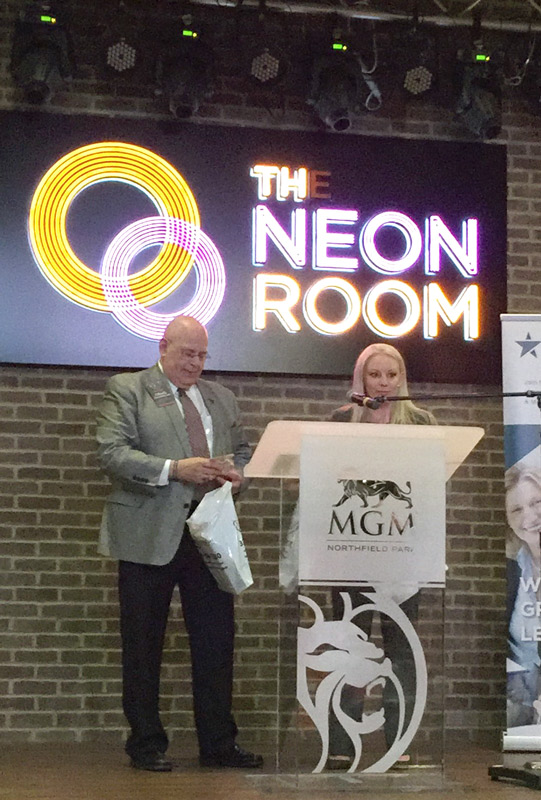 Las Vegas is Here, Ohio! [NSME June Speaker, Jamie Brown of MGM Northfield]
By Kristin Shawd
You probably think that Las Vegas and Ohio have little in common. Well, MGM Resorts International is looking to change that perspective with their rebranding and marketing campaign that launched MGM's entry into Ohio's gaming market. 
What sounds like a tall order (linking Sin City and the Buckeye State through a launch campaign) is just the type of marketing insight that NSME Akron/Canton event attendees anticipate each month; and NSME's June field trip to MGM Northfield Park delivered.
Jamie Brown (VP Marketing of MGM Northfield Park) shared the company's strategy of transitioning the property from its well-known past as the Hard Rock Rocksino to its new identity — MGM Northfield Park. 
Jamie noted that this transition was no small undertaking, particularly because both are entertainment companies that offer essentially the same thing:
Exciting games
Entertainment
Superior service
The question that the MGM marketing team asked themselves was, "How does MGM take these shared elements and tie it in to its own brand?" This is a question any marketing department might ask itself. 
The challenge was intensified by the high-profile Hard Rock name and the property's previous "Rocksino" branding which Jamie noted "rolled easily off the tongue."
So, what did MGM do?
The 4 C's of Marketing
They reached out to a New York firm that helped them craft a brand platform and positioning statement for the launch based on the four C's of Marketing:
Company 
Category
Consumer
Culture 
First step, they considered MGM itself — who it is, its brand, its offering, its value proposition. In other words, what MGM brings to the gaming industry, which can be summarized by MGM's tagline, "Welcome to The Show." 
Next, they drilled down on the specifics, starting with category. The marketing team considered the MGM brand in light of the Northeast Ohio casino scene (the category). They recognized that MGM Northfield Park would not be a destination property, so its specific category is different from MGM resort properties in Las Vegas.  
Its consumer is also different from other MGM properties — mostly NEO locals rather than visitors or vacationers. So, they considered the desires of this unique consumer profile, asking questions specific to this persona. What type of experience is the NEO consumer hoping to find during their night out at a casino? 
MGM's answer was that the local visitor was looking for a Las Vegas experience; and they went on to define that experience in some detail. They also nailed down how MGM provides a superior "Las Vegas Experience" compared to its local competitors.
Finally, the marketing team looked to culture...local culture...by asking, "what does the Cleveland culture bring into play?"
The end result was a campaign and positioning statement that links the two cities via imaging which combines the Cleveland and Las Vegas skylines and the tagline, "Vegas has Arrived in Cleveland."  This mash-up approach combines local pride (highlighting the best of Cleveland) with the desired experience (Las Vegas excitement).
The local theme runs deep as they have integrated local area codes (216, 330, 404) and Cleveland icons like the Guardians of Traffic statues on the Lorain-Carnegie bridge. They have also paid tribute to local history by returning the property to its original name, MGM Northfield Park.
Challenges and Concerns During Transition
When asked about their biggest challenge or concern in the transition from Hard Rock Rocksino to MGM Northfield Park, Jamie noted one of each:
Removing all the Rocksino branding and memorabilia from the property and replacing it with MGM branding and memorabilia (challenge)
Getting people to stop calling it "Rocksino" (concern)
Here, MGM's decision to return the property to its historic name was well thought out, in my opinion. I assume proud Clevelanders are more than happy to bring back the casino's Cleveland origins and call it by its "new" old name.
NSME Akron/Canton July Luncheon
Join us for our next luncheon (July 9, 2019) to hear Scott Zimmerman, President Cyrano Service, speak on "How to Build a Powerful Personal Brand." The event will be held at the Embassy Suites by Hilton Akron-Canton Airport from 11 a.m. – 1 p.m.. The lunch/program begins at 11:30 a.m..
Registration for the July 9 Luncheon is available online.
About the Contributor
Kristin Shawd is a Digital Marketing Strategist at Mulligan Management Group, a digital marketing agency based in Hudson, Ohio.
This is without exception, the single-best networking organization I belong to. They have these amazing educational events where some of the area's leading minds come to share their wisdom. It's awesome!
Why Join NSME?
It's all about you!
Complimentary workshops
Professional member recognition
Educational and networking event discounts
Online networking opportunities
Sign up for meeting updates and other news!