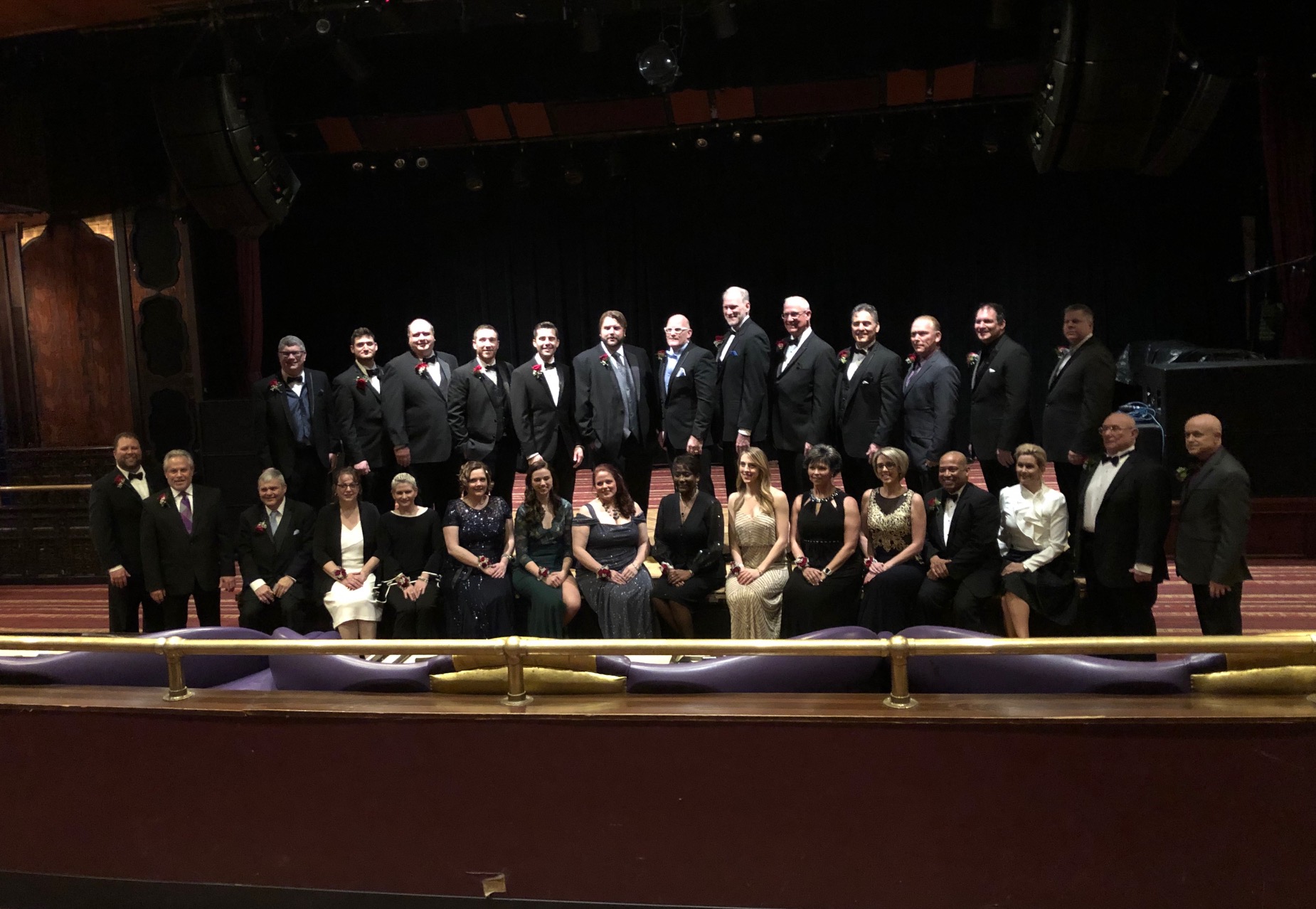 NSME Akron/Canton 47th Annual Accent on Excellence Event
On February 26th, 2019 we celebrated our 47th annual Accent on Excellence Gala. This annual event dates to 1973 when it was created to honor local business leaders for their exemplary contributions.
The evening was a great success. Over 350 people were in attendance to celebrate the 29 award recipients, including two special honorees – Executive of the Year, Outstanding Community Leader –  plus, a Collegiate Award Recipient.
2019 Award Recipients
This year's Executive of the Year award went to Theresa Carter, President of OMNOVA Solutions Foundation. Theresa was introduced via video by last year's Executive of the Year – Jim Tressel, President of Youngstown State University. Theresa accepted her award with a timely speech that encouraged executives across all industries to pay special regard to the role they play in furthering diversity and gender equality in the workplace.
This year's Outstanding Community Leader award went to Jeremy Lile, Executive Director of Heart to Heart Communications for his passion and commitment to serving others. In his acceptance message, he emphasized the role that giving back has played throughout his life, and he encouraged others to live their life in the same spirit.
Congratulations Theresa and Jeremy!
In addition to the special tributes, there were 26 Accent on Excellence Awards given to business leaders from various industries across greater northeast Ohio. Rounding out the event, Justyne Lyons, a graduate student at the University of Akron, received this year's Collegiate Award.
Prior to the award ceremony, all 29 honorees gathered for the 2019 class photo shown above.
The Flow of the Evening at NSME Awards 2019
The evening kicked off with a hosted VIP Reception for the honorees and their families. This casual gathering in the VIP lounge allowed time for award recipients and their guests to meet and mingle prior to the formal sit-down dinner and award presentation.
Casual nibbles were on offer and all in attendance seemed to enjoy themselves and the ambiance created by the VIP lounge's central statue and fountain.
As the dinner hour approached, honorees and guests alike made their way to the ballroom that was impeccably set, dressed in shimmering silver.
A three-course dinner was served as the Tim Dimoff, Master of Ceremonies, paid special tribute to each recipient.
Tim's in-depth knowledge and interest of each recipient was highlighted by the special add-on gifts that he made to the many recipients – custom tee-shirts, favorite foods, golden bunnies given to recognize enthusiasm and stamina (think Energizer Bunny), and most notably Target gifts cards to the adopted three children of Chris Massouh, because Target is their favorite store.
NSME Akron/Canton 2019 Board Members
The Accent on Excellence event is our premier event each year. It is made possible by the committed efforts of our dedicated board. Special thanks Brenda Basso, chairperson of Accent on Excellence. Without you, this event would not be possible.
NSME Akron/Canton is Proud to Lift This Individual
Every February, at the Accent of Excellence Gala, we recognize two individuals that have made exceptional contributions in the greater NEO area.
Know someone who should be recognized? Please email Executive Director, Sharon Reed at Sharon.Reed@nsme.org no later than July 31, 2019. She has a form she can send you or you can share by email the name of the person, title, and one-two paragraphs describing why they should be recognized.
This is without exception, the single-best networking organization I belong to. They have these amazing educational events where some of the area's leading minds come to share their wisdom. It's awesome!
Why Join NSME?
It's all about you!
Complimentary workshops
Professional member recognition
Educational and networking event discounts
Online networking opportunities
Sign up for meeting updates and other news!