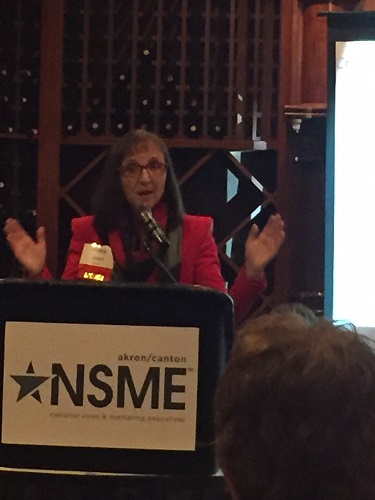 NSME March Workshop on CRM and Business Success
"All of us are smarter than any one of us."
Thus began the March NSME Akron/Canton Workshop. This quote came from the first presenter of the evening, Richard (Dick) T. Kiko, Jr., CEO/Broker of KIKO Company. Dick delivered an inspirational message, titled Success Comes in Threes, which focused on the similarities between success in life and success in business.
Success Comes in 3s
Dick summarized that success in life derives from equal measures of three ingredients:
Passion
Energy
Life Balance
Passion is the desire and interests that drive you forward. Energy is the effort, and often grit, required to achieve what passion places before you. Life balance is that normalizing ingredient that keeps both passion and energy in check and partners them with skill and planning. It also includes the notion of work-life balance – balancing work life, with personal life, with family and community involvement.
The 3 Business Functions that Must Receive Equal Focus for Success
Dick went on to explain that these same principals can be applied to any business or organization, where balance is the key. Just as the personal traits above need to be kept in equal proportion for success, so do the three primary business functions need to be kept in a state of equilibrium for business success.
Operations
Sales
Marketing
 Dick has found that most organizations excel in one area but lag in another. This slows the company down and hampers results. The only way to have optimal results is to grant equal focus to all three. Place a third of your efforts on operations, sales, and marketing. He offered an example from his time at Nestle to drive the point home.
Marketing Best Practices: How to Use Your CRM System to Grow Sales
Jean Gianfagna of Gianfagna Strategic Marketing, Inc. and Bob Sullivan of InfoGrow shared the spotlight for the dinner presentation. Their message, titled Marketing Best Practices: How to Use Your CRM System to Grow Sales, was all about CRM systems and how to use them for maximum business value.
They began by emphasizing the fact that too often CRM systems are viewed incorrectly. Many see view their company's CRM as a nothing more than a prospecting or lead generation tool. This misperception results in underusing and undervaluing a CRM's potential.
They encouraged the attendees to consider their CRM as a customer retention tool or lead nurturing tool instead. This change in perspective (and usage) can lead your company's way to achieve "Customer Lifetime Value."
This new way of utilizing your CRM stems from a change in the sales pathway. It used to be that 7 contacts or sales touch points were needed on average to close a sale. But that number has ballooned, and it can be upwards of 20 contacts needed to close a deal. Your CRM system is just what you need to manage these contacts. 
He also noted the change in the type of prospect contact that has emerged. If 20 contacts are required, you certainly can't be pitching that many times and expect anything but annoyance. Today, businesses are reaching out to and nurturing leads with greetings and information that might prove useful, such as:
Webinars
Podcasts
Customer's birthdays or client anniversaries
And, yes, prospecting
A balance needs to be found between offering something of value to your potential customer and pitching your service or product to them.
Marketing Owns the CRM but All Must Commit to Data Integrity
An additional point was made by Jean and Bob concerning CRM systems. While the software is "owned" by the marketing department, the entire organization must be committed to maintaining and it and updating the information that it stores.
For example, suppose a customer complaint comes in. Marketing will only know about it IF the customer care department documents it in the CRM. The point was made that a CRM is only as good as its last entry. So, communicate the value maintaining your companies CRM across your entire organization.
NSME Akron/Canton April Event and Workshop
Join us for our next event – a luncheon to be held at 11:30 am on May 14, 2019, at Embassy Suites by Hilton (Akron/Canton Airport).  Renato "Ren" Camacho, President & CEO of Akron/Canton Airport will give an "Airport Update" covering a range of topics, including industry challenges, key projects and vision, and employee and community engagement. He will end his presentation with a Q & A session.
Registration for the May 14th NSME Akron/Canton Luncheon is available online.
This is without exception, the single-best networking organization I belong to. They have these amazing educational events where some of the area's leading minds come to share their wisdom. It's awesome!
Why Join NSME?
It's all about you!
Complimentary workshops
Professional member recognition
Educational and networking event discounts
Online networking opportunities
Sign up for meeting updates and other news!