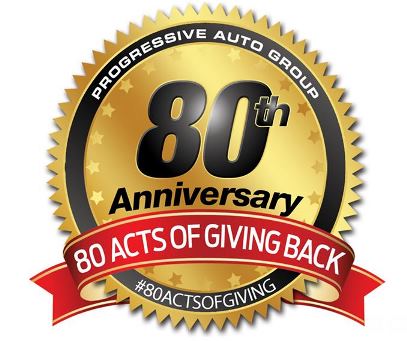 Tom Schmidt Led Fundraiser at Progressive Chevrolet for Cheer Squads and Hunger Task Force
Progressive Chevrolet hosted a pep rally with the Plain Local Youth Football Cheer Squads and the Stark County Hunger Task Force to benefit both organizations. Tom Schmidt developed the clever synergistic charity event.
Kicking off the evening, 60 pre-teen cheerleaders ran out of the Progressive Chevrolet Service department and performed their cheer routines to an appreciative crowd of 120 parents and other fans in the parking lot.
In the dealership showroom, guests helped support the fundraising through a 50/50 drawing and auction that netted the cheer squad $888. In addition, Progressive Chevrolet collected canned goods to donate to the Stark County Hunger Task Force, promising the dealership would give a one dollar to the cheerleaders for each donated can. With 131 cans given, the dealership gave $250 to the cheer squads.
This is without exception, the single-best networking organization I belong to. They have these amazing educational events where some of the area's leading minds come to share their wisdom. It's awesome!
Why Join NSME?
It's all about you!
Complimentary workshops
Professional member recognition
Educational and networking event discounts
Online networking opportunities
Sign up for meeting updates and other news!